My Ebates
> Blogger Dashboard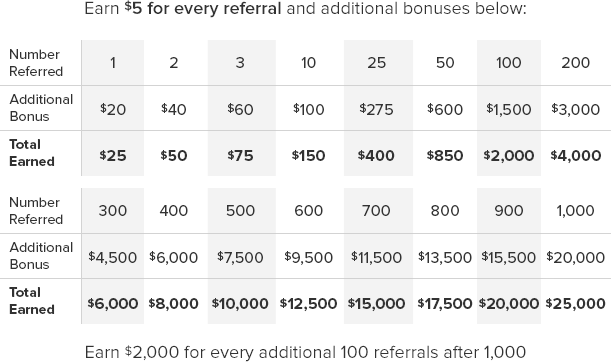 You have referred new members toward the current bonus.
Current Bonus Period: 10/1/2017 - 12/31/2017
Your post has been published!
Copy and Share your link:

Click to copy the source code.
Qualified New Members*

Signed Up

Not Signed Up

Ebates will pay you for every new member you refer to our site who then shops and makes a purchase at our partner merchants sites – see "Qualified Referral" below. While we love them, too, pets and children do not qualify, nor do referrals to friends or housemates who do not do their own shopping via their own account on Ebates.com.
*A "Qualified Referral" is a new member of Ebates referred by you that signs up at Ebates.com and makes qualifying purchases totaling $25 or more that earn Cash Back within one year following signing up.  Ebates will pay you a $5 "Base Bonus" for each Qualified Referral. For the referral period starting October 1, 2017 and ending December 31, 2017, you will also be eligible for an additional one-time "Tier Bonus" based on the total number of such qualified referrals you generate and the Tier Bonus Table  in effect. For the above referral period, you could earn a $20 tier bonus on your first qualified referral. You will receive the highest Tier Bonus for which you qualify in the Tier Bonus Table.  Your final Tier Bonus amount will be determined at the conclusion of this promotion. A Qualified Referral must be generated using (i) your custom referral link, (ii) the invitation forms on this page or (iii) other methods supplied by Ebates that allow for proper tracking of referrals. The following is a non-exhaustive list of activities that are not permitted and that will disqualify you from earning Bonuses: (i) self-referral, (ii) posting your referral link on any Ebates merchant's Facebook or forum page, (iii) bidding on any keywords containing Ebates including but not limited to, Ebates, Ebates.com, Ebates.ca, (iv) placement of the Ebates logo or mention of Ebates in any ad text, extensions or banner ads, (v) paid advertising for the purpose of generating traffic directly to your referral link, (vi) posing as a representative of Ebates in an official capacity and (vii) any similar activity determined by Ebates in its sole discretion to be inconsistent with the purpose of the Ebates Refer-A-Friend Program. Ebates decisions are final. You are responsible for any applicable taxes. This referral bonus promotion is open only to individuals who are legal residents of the fifty (50) United States, the District of Columbia or Puerto Rico and are at least eighteen (18) years of age.