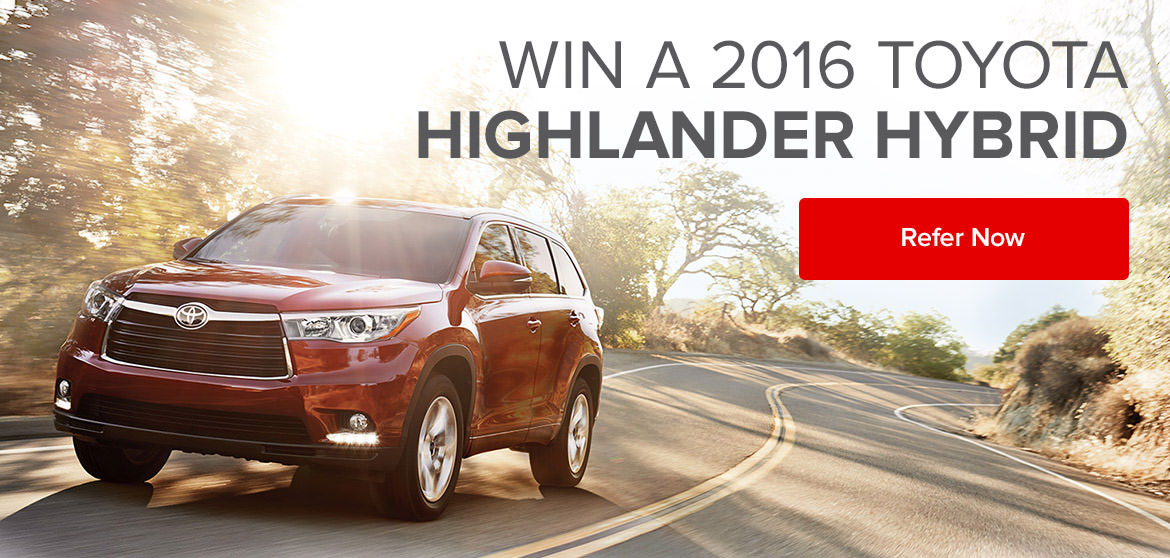 The 2016 Toyota Highlander Hybrid Limited Platinum features:
All-Wheel Drive

3.5L V6 Hybrid Engine, ECVT

MSRP Total Price: $51,385

MPG: City 28/Highway 27

Heated seats

SiriusXM AM/FM/HD
Front fog/driving lights

Parking assist

Leather seat trim

Driver lumber support

Navigation system

Rain-sensing windshield wipers
Winner can choose to accept a $50,000 cash prize instead.

How to Enter:
When you invite friends with your personal referral link or social share links, you'll receive 1 entry into the sweepstakes for each friend who joins. (Maximum of 5 entries.)
Disclaimer: A friend must join during the Sweepstakes Period to receive an entry for this Sweepstakes.
Deadline for entry is December 31, 2016.
Ebates Refer-A-Friend Giveaway
(U.S. October – December 2016)
No purchase necessary to enter or win. A purchase or payment will not increase your chances of winning
The Ebates Refer-A-Friend Giveaway ("Sweepstakes") is sponsored by Ebates Inc., 160 Spear Street, Suite 1900, San Francisco, CA 94105 ("Sponsor").
1. Eligibility: The Sweepstakes is open to legal residents of the fifty (50) United States and the District of Columbia who are at least 18 years of age or older, and have an Ebates account ("Entrant"). Employees of Ebates Inc., its parent, subsidiaries, affiliates and advertising and promotion agencies and their immediate families (parent, child, spouse or sibling and their respective spouses, regardless of where they reside) and those living in their same households, whether or not related, are not eligible to participate or win. The Sweepstakes is subject to all applicable federal, provincial, state and local laws, rules and regulations. Void where prohibited. See Sponsor's at Privacy Policy for more information about privacy.
2. Sweepstakes Period: The Sweepstakes begins on October 1, 2016 at 12:00 a.m. Eastern Time ("ET") and ends December 31, 2016 at 11:59 p.m. ET according to Sponsor's time clock ("Sweepstakes Period").
3. How to Enter the Sweepstakes: Entrants must have a valid Ebates account at the start of the Sweepstakes Period. Each time Entrant refers an eligible friend or family member who doesn't already have an Ebates account to Ebates during the Sweepstakes Period, and the referred friend signs up for a new Ebates account via the Entrant's referral communication, Entrant's referral automatically earns Entrant an entry in the Sweepstakes, up to a maximum of five (5) entries per Entrant.
Entrants can refer friends and family by accessing Entrant's account at www.ebates.com. Once Entrant is logged in, click on the Ebates Refer-A-Friend link and "refer a friend" according to the steps provided on the page. An Entrant can send an email via the site or generate a Facebook post. Entrants will also be provided with a unique link to use to refer friends and family who are eligible to establish a new Ebates account. Entrants can send the link to friends and family via their own email and/or post it via their social media accounts. For every eligible friend/family member who establishes an Ebates account via the Entrant's referral communication, that Entrant will receive one (1) entry. Entrants should only invite people they know and who they think would want to receive the invitation – no spamming. PLEASE NOTE THAT WHENEVER YOU SHARE YOUR PERSONAL LINK WITH A FRIEND/FAMILY MEMBER YOU SHOULD INCLUDE A STATEMENT THAT YOU WILL RECEIVE AN ENTRY INTO THE SWEEPSTAKES IF YOUR FRIEND SIGNS UP FOR A NEW EBATES ACCOUNT VIA YOUR REFERRAL COMMUNICATION. While we appreciate Entrants referring up to ten (10) friends at one time, Entrants will only get a maximum of five (5) entries into the Sweepstakes for up to the first five (5) referrals. Any eligible referrals received after the first five (5) referrals will not count towards entry. All entries must be received by December 31, 2016 at 11:59 p.m. ET according to Sponsor's time clock.
Alternate Method of Entry by mail: : Entrants may also enter by mailing up to five (5) handwritten 3 x 5 cards with Entrant's full name, postal address, the email address that corresponds with Entrant's Ebates account, and telephone number to Ebates Sweepstakes, Refer-A-Friend Q4 2016, Ebates Inc., 160 Spear Street, Suite 1900, San Francisco, CA 94105. All contact information provided must be valid, truthful and current. Entrants will receive one (1) entry for each valid, complete card received. Mail-in entries must be postmarked by December 31, 2016 and must be received no later than January 7, 2017. Envelopes containing multiple entries will be disqualified. Released Parties (as defined below) are not responsible for lost, late, damaged, delayed, destroyed, misdirected, incomplete, illegible, mutilated, or postage due mail. Such entries are void and will not be accepted. Incomplete, unreadable, or unintelligible entries, in the sole discretion of Sponsor, will be disqualified.
Only a maximum of five (5) entries per Entrant during the Sweepstakes Period will be accepted by either or both methods combined. Entries or referrals generated by script macro or other automated means or by any means that subverts the entry process will be void. All entries become the property of Sponsor.
4. Odds: Odds of winning a prize depend on the number of eligible entries received.
5. Winner Selection and Notification of Potential Winner: Potential winner will be selected on or about January 9, 2017 at random by a representative of Sponsor from among all eligible entries received by the end of the Sweepstakes Period to receive the prize (the "Potential winner").
The Potential winner will be notified by email or telephone, at Sponsor's sole discretion, using the information provided at the time of entry. Potential winner will be required to respond (as directed) within seven (7) calendar days of attempted notification. The failure to respond timely to the notification may result in forfeiture of the prize and, in such case Sponsor may randomly select an alternate potential winner from among the remaining eligible entries, up to three (3) attempts. Potential winner will be required to execute and return an affidavit of eligibility / liability / publicity release ("Release") within five (5) calendar days from the date of notification. An alternate potential winner may be randomly selected from among the remaining eligible entries if potential winner, up to three (3) attempts: (i) cannot be reached; (ii) fails to prove eligibility, obtain all signatures on the Release and/or return any documents or information required by Sponsor in a timely manner as required pursuant to these Official Rules; or (iii) cannot accept or receive the prize for any reason. In the event of a dispute as to the identity of the winner, the winner will be deemed to be the person in whose name the Ebates account was opened and he/she must comply with these Official Rules.
6. Prize: 2016 Toyota Highlander Limited Premium. Approximate Retail Value ("ARV"): $51,385. Winner must have valid driver's license and provide proof of insurance to take delivery. Tax, title and license fees are winner's sole responsibility. Delivery will be taken at a dealership close to winner's residence selected by Sponsor. Sponsor will determine all features of automobile including but not limited to color of exterior and interior, and all other features or upgrades will be allowed only if permitted by delivery dealer and paid for by winner. Actual vehicle may differ from image shown within creative. Vehicle is awarded "as is" with no warranty or guarantee, either express or implied by Sponsor. Manufacturer's limited warranty may apply as specified by dealership. If a 2016 Toyota Highlander Limited Premium is not available at time of prize award, Sponsor will work with winner to select a similar Toyota vehicle alternative, or winner can choose a lump sum payment in the amount of $50,000. If a vehicle is not accepted by June 30, 2017, winner will receive the lump sum payment in the amount of $50,000. Winner may also choose the lump sum payment of $50,000 in lieu of the vehicle. No other substitutions permitted by winner. Prize cannot be transferred or redeemed for cash (with the exception of the lump sum alternative) by winner. Sponsor reserves the right to substitute a prize with one of comparable or greater value, at its sole discretion. All federal, state and local taxes as well as any costs and expenses associated with prize acceptance and use are the responsibility of the winner. All prize details are at Sponsor's sole discretion.
7. Publicity: By participating in the Sweepstakes, any Entrant in the Sweepstakes, irrevocably grants the Sponsor and their respective successors, assigns and licensees, the right to use such Entrant's, name, likeness, biographical information in any and all media for any purpose, including without limitation, commercial, advertising and promotional purposes as well as in, on or in connection with the Sweepstakes or other promotions, and hereby release the Sponsor from any liability with respect thereto, unless prohibited by law.
8. General Conditions: By participating, Entrants agree to be fully and unconditionally bound by these Official Rules and the decisions of Sponsor and waive any right to claim ambiguity in the Sweepstakes or these Official Rules. Any portion of the Sweepstakes may be canceled, suspended and/or modified, in whole or in part, if in Sponsor's opinion any fraud, technical failure or other factor beyond our control impairs the integrity or proper functioning of the Sweepstakes. Sponsor reserves the right in its sole discretion to disqualify any individual (and to disqualify false entries or referrals of any individual) who is found to be tampering with the entry process or the operation of the Sweepstakes or Sponsor's website, to be acting in violation of these Official Rules, or to be acting in an unsportsman-like or disruptive manner, or with the intent to disrupt or undermine the legitimate operation of the Sweepstakes, or to annoy, abuse, threaten or harass any other person, and Sponsor reserves the right to seek damages (including, without limitation, attorneys' fees) and other remedies from any such person to the fullest extent permitted by law including, criminal prosecution. Entrants may not enter with multiple identities or use any automated system, bot or other device or artifice to enter or obtain more than the maximum number of qualified entries. Sponsor reserves the right at its sole discretion to terminate the Sweepstakes and, if terminated, at its discretion, select the potential winners in a random drawing from among all eligible, non-suspect entries received prior to action taken or as otherwise deemed fair and appropriate by Sponsor.
9. Limitations of Liability: If for any reason an entry is confirmed to have been erroneously deleted, lost or otherwise destroyed or corrupted, the Entrant's sole remedy is another entry in the same Sweepstakes during the Sweepstakes Period. Potential winners also agree to release, discharge, indemnify and hold harmless Sponsor, Facebook, Inc., Toyota Motor Company, and each of their respective parent, subsidiaries, affiliates and advertising and promotion agencies and all of their respective officers, directors, employees, representatives and agents (collectively, "Released Parties") from and against any claims, damages, disability, attorneys' fees, and costs of litigation and settlement, as well as any liability due to any injuries, damages or losses to any person (including death) or property of any kind resulting in whole or in part, directly or indirectly, from: (i) use, redemption, acceptance, possession, ownership, or misuse of any prize (including any injury or harm resulting from use of the vehicle), or (ii) participation in any Sweepstakes-related activity or participation in this Sweepstakes. Released Parties are not responsible for lost, late, incomplete, inaccurate, stolen, misdirected, undelivered, delayed, garbled or damaged entries referrals, communications, Releases or mail; or for lost, interrupted or unavailable network, server, Internet Service Provider (ISP), website, or other connections, availability or accessibility or miscommunications or failed computer, satellite, telephone or cable transmissions, lines, or technical failure or jumbled, scrambled, delayed, or misdirected transmissions or computer hardware or software malfunctions, failures or difficulties, or other errors or difficulties of any kind whether human, mechanical, electronic, computer, network, typographical, printing or otherwise relating to or in connection with the Sweepstakes, including, without limitation, errors or difficulties which may occur in connection with the administration of the Sweepstakes, the processing of referrals or entries, the announcement of the prizes, or in any Sweepstakes-related materials. Released Parties are also not responsible for any incorrect or inaccurate information, whether caused by site users, tampering, hacking, or by any equipment or programming associated with or utilized in the Sweepstakes. Released Parties are not responsible for injury or damage to participants' or to any other person's computer related to or resulting from participating in this Sweepstakes or downloading materials from or use of the website. In the event Sponsor is prevented from continuing with the Sweepstakes as contemplated herein by any event beyond its control, including but not limited to fire, flood, earthquake, explosion, labor dispute or strike, act of God or public enemy, or any federal, state or local government law, order, or regulation, or other cause not reasonably within Sponsor's control (each a "Force Majeure" event or occurrence), then subject to any governmental approval which may be required, Sponsor shall have the right to modify, suspend, or terminate the Sweepstakes. If the Sweepstakes is terminated before the designated end date, Sponsor will (if possible) select the winners from all eligible, non-suspect entries received as of the date of the event giving rise to the termination. The invalidity or unenforceability of any provision of these rules shall not affect the validity or enforceability of any other provision. In the event that any provision is determined to be invalid or otherwise unenforceable or illegal, these rules shall otherwise remain in effect and shall be construed in accordance with their terms as if the invalid or illegal provision were not contained herein.
10. Disputes: Disputes regarding these Official Rules and/or the Sweepstakes will be governed by the internal laws of the State of California. Decisions of Sponsor are binding and final. In the event of a dispute as to any entry, the authorized account holder of the email address used to conduct a search will be deemed to be the entrant. No claimant in any dispute involving Sponsor shall be entitled to claim or obtain indirect, punitive, incidental or consequential damages. Sponsor's failure to enforce any provision in these Official Rules shall not constitute a waiver of that provision.
11. Sweepstakes Results: For names of the winners, available after January 15, 2017, send an email to RAFSweepsWinners@ebates.com. Requests received after February 15, 2017 will not be honored.
This Sweepstakes is not sponsored, endorsed or administered by Facebook or Toyota Motor Company.
© 2019 Ebates Inc. All rights reserved.