490 bought
Limited quantity available
The deal is on!
Tipped at 10:59 AM with 0 bought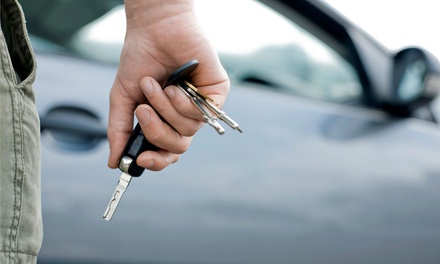 The Fine Print
Expires Apr 2, 2014
Limit 2 per person. Valid only for option purchased. Appointment required. 24hr cancellation notice required. Not valid for the following vehicles: Mercedes, BMW, Jaguar, Mini, Land Rover, Volvo, Porche, Saab, Fiat w/ factory alarm installed. Extra fee for manual transmissions. Extra fee for push button start vehicles. Extra fee for extra ignition key or bypass module. Extra Fee for 2-way remotes. Yearly app fee for applies. Extra Fee for Audi and VW.
Highlights
Traditional or smartphone-integrated remote starters allow drivers to start their cars before they get in
Cars are cool because they are essentially big, strong robots that you can get inside and control. The world is better than you thought with this Groupon.
Choose from Four Options
$159 for a long-range remote car starter ($299.99 value)
$199 for a long-range remote car starter and a car alarm ($399.99 value)
$349 for a SmartStart smartphone-integrated remote-starter system (a $699.99 value)
$499 for a long-range remote car starter and two heated seats (a $999.99 value)
All options include installation. Remote starting can be used to start your car's air-conditioning or heating system before you get in.
The Company
Can You Hear It Car Audio Inc
203 Shaker Rd
East Longmeadow, Massachusetts, 01028