5000 bought
Limited quantity available
The deal is on!
Tipped at 9:05 AM with 0 bought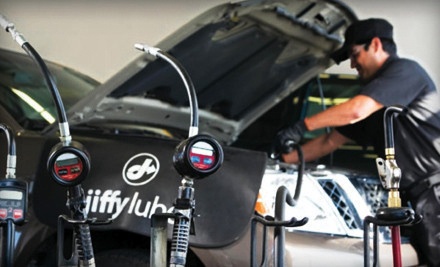 The Fine Print
Expires Jul 9, 2014
Limit 1 per person, may buy multiple as gifts. Limit 1 per visit. Extra fee for synthetic oil. Valid only at listed locations.
Highlights
Trained wrench MDs inject 5 quarts of Pennzoil or Formula Shell into ailing autos, then replace filter, wash windows, and vacuum interior
Though sending your vehicle on a blind date with a giant squid is an easy way to jump-start your felt-tipped-pen company, it remains a fruitless formula for obtaining fresh oil. Give your vehicle new life without making it spring for lobster with this Groupon.
$36 for an Oil-Change Package (Up to $73.97 Total Value)
Jiffy Lube Signature Service oil change (a $43.99 value)
Tire rotation (a $19.99 value)
Rain-X glass treatment (a $9.99 value)<p>
The Jiffy Lube Signature Service oil change handles more than just the replacement of vehicles' engine juices with up to 5 quarts of Pennzoil conventional or Formula Shell motor oil. Each service comes standard with a fresh-from-the-box oil filter, plus a comprehensive lineup of other vehicle-maintenance checkups, an exterior window wash, and interior floor vacuum. Trained technicians entreat cars to say "Ahhh" before quenching automotive thirst with top-offs of transmission, differential, transfer-case, power-steering, and windshield-washer fluids. A detailed inspection enforces the well-behaved manners of the antifreeze and coolant reservoirs, engine air-filtration system, serpentine belt, wiper blades, and exterior lights. By evenly distributing the weight across each tire, a fresh tire rotation helps minimize wear and tear, maximize traction, and avoid the need to conceal balding tires with cumbersome toupees. A Rain-X glass treatment helps drivers achieve visibility while driving through rain, sleet, or snow.<p> Though Jiffy Lube sometimes features a discounted price in-store, this Groupon still offers the best deal available.<p>