90 bought
Limited quantity available
The deal is on!
Tipped at 12:02 AM with 0 bought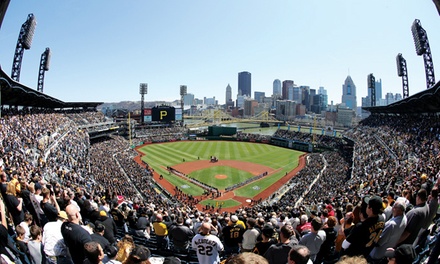 The Fine Print
Expires Jun 11, 2014
PNC Park is the issuer of tickets for this event. Discount reflects PNC Park's current ticket prices, price may differ on day of event. Customers buy through here. Contact Customer Service for PNC Park at 1-800-289-2827 with questions. See PNC Park's rescheduling, cancellation and refund policy here: http://gr.pn/1ewlc5F. See Groupon's Third Party site terms here. Must enter code groupon at checkout.
Highlights
Manager Clint Hurdle leads a Pirates lineup of returning aces and All Stars onto the diamond for early season matchups
Statistics help fans analyze a baseball player's career, from quantifying a slugger's batting average to measuring a right fielder's apathy. See numbers come to life with this GrouponLive deal.
The Deal
One ticket to see a Pittsburgh Pirates game
Where: PNC Park
Door time: 90 minutes before first pitch
Seating Options
$14 for one ticket for Grandstand seating ($20 value)
$16 for one ticket for Outfield Reserved seating ($24 value)
$25 for one ticket for Lower Outfield Box seating ($35 value)
$45 for one ticket for Pittsburgh Baseball Club (rows D-K) seating ($55 value)
Choose from the following games and dates:
Against the Cincinnati Reds on Tuesday, April 22, at 7:05 p.m.
Against the Toronto Blue Jays on Sunday, May 4, at 1:35 p.m.
Against the San Francisco Giants on Tuesday, May 6, at 7:05 p.m.
Against the St. Louis Cardinals on Sunday, May 11, at 8:05 p.m.
Against the Washington Nationals on Thursday, May 22, at 7:05 p.m.
Against the Chicago Cubs on Monday, June 9, at 7:05 p.m.
Against the Chicago Cubs on Wednesday, June 11, at 7:05 p.m.
When you click "Buy," you'll be redirected to pirates.com to complete your transaction. This offer applies toward the face value of tickets, but you'll still need to pay all pirates.com fees and taxes in full.
Major League Baseball trademarks and copyrights are used with permission of MLB Advanced Media, L.P. All rights reserved.
The Scouting Report
2013 was a landmark year for the Pittsburgh Pirates organization: the team earned a postseason berth with the third-best record in the National League, beating the Cincinnati Reds in the NL Wild Card game. This year, skipper Clint Hurdle again looks for offensive production from All-Star position players as well as reliable pitching from a rotation highlighted by several returning aces. The team looks to not only improve upon the 94-68 regular season record posted last year, but perhaps snatch the National League pennant and magic pine tar from the defending-champ St. Louis Cardinals. Early season games against the Cards and other National League rivals—as well as an interleague matchup against the Toronto Blue Jays—should give fans a glimpse of what 2014 has in store.
The Company
Pittsburgh Pirates
115 Federal St
Pittsburgh, Pennsylvania, 15212