6 bought
Limited quantity available
The deal is on!
Tipped at 10:38 AM with 0 bought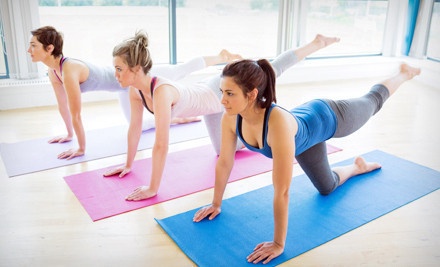 The Fine Print
Expires Nov 16, 2013
Limit 1 per person, may buy multiple as gifts. Must redeem pass in full by the expiration on your Groupon. Not valid until 5/28. Locations and schedules subject to change. Not valid for walk-ins. Classes must be booked online at www.metabodyfitness.com. New clients only. Limit 10 classes per company, except at select companies. Limit 5 classes at Yoga Innovations. Limit 5 classes combined at Yoga Flow locations. Limit 5 classes combined at Yoga at Heather Ferri Production locations. See all locations.
Highlights
Instructors encourage full-body results in a variety of fitness classes that are supplemented by a success guide and nutritional coaching
Like tug-of-war tournaments and harmonized singing telegrams, workouts are more effective when done with a group. Join a fitness community with this Groupon.
$20 for 30 Yoga and Fitness Classes ($350 Value)
This Groupon is valid at 13 Pittsburgh-area locations.
The trainers at each MetaBody-approved location lead students in results-oriented workouts several times a week. Sweat sessions utilize a variety of exercises and disciplines to produce full-body results in a supportive environment, ideal for beginners and hard-core core hardeners alike. In addition to the fitness classes, students receive a success guide to help prepare them for imminent pound loss, a nutrition guide, and a $100 gift certificate for individual coaching from MetaBody's team of certified nutritionists. Because the pass sets a 5- or 10-class cap at any given location, exercisers can further shake up their workout regimens by vetting a series of classes or instructors that work best for them.
Click here for each location's class schedule.
The Company
MetaBody Yoga & Fitness Pass