90 bought
Limited quantity available
The deal is on!
Tipped at 12:01 AM with 0 bought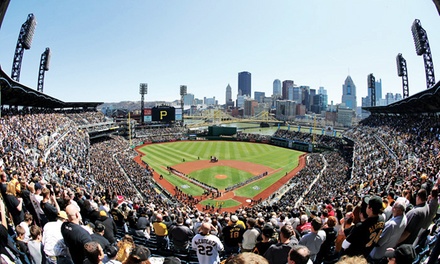 The Fine Print
Expires Aug 27, 2014
May buy multiple. Valid only for option purchased. Customers buy through http://gr.pn/1pjh2Zm. Contact PNC Park at (877) 893-2827 with questions. See Groupon's Third Party site terms here. Must purchase together to sit together. Pittsburgh Pirates is the issuer of tickets. Discount reflects Pittsburgh Pirates' face value ticket prices - price may differ on day of event. Additional ticket fees apply at time of purchase. Must enter code groupon at checkout. Processing fees not included.
Highlights
The Pirates continue to follow a historic 2013 campaign with a record that could see them in the playoffs yet again
The Deal
One ticket to see a Pittsburgh Pirates game
Where: PNC Park
Door time: 90 minutes before first pitch
Seating Options
$45 for one ticket for Pittsburgh Baseball Club seating (rows D–K) (a $55 value)
$25 for one ticket for Lower Outfield Box seating (a $35 value)
$16 for one ticket for Outfield Reserved seating (a $24 value)
$14 for one ticket for Grandstand seating (a $20 value)
For each option, choose from the following games:
Against the Miami Marlins on August 5, 6, or 7
Against the Atlanta Braves on August 18, 19, or 20
Against the St. Louis Cardinals on August 25, 26, or 27
_When you click "Buy," you'll be redirected to pirates.com to complete your transaction. This offer applies toward the face value of tickets, but ticketing fees on purchases made between July 29 and August 1 will be waived due to a team promotion. Taxes still apply; standard ticketing fees will apply to any purchases made after August 1._
Major League Baseball trademarks and copyrights are used with permission of MLB Advanced Media, L.P. All rights reserved.
The Scouting Report
2013 was a landmark year for the Pittsburgh Pirates organization: the team earned a postseason berth with the third-best record in the National League, then beat the Cincinnati Reds in the NL Wild Card game. This season, they're out to prove that last year's run was no fluke. As the season rumbles into August, the Pirates are poised to do just that. Right after the All-Star break in mid-July, Pittsburgh began to sizzle, winning five of six games and pulling within striking distance of the Central Division lead. Skipper Clint Hurdle's coaching is clear in the professionalism the Pirates bring to each at-bat; the club boasts the best on-base percentage in the majors, a result of the hitters' disciplined refusal to swing at bad pitches, even when the ball's filled with candy.
The Company
Pittsburgh Pirates
115 Federal St
Pittsburgh, Pennsylvania, 15212