650 bought
Limited quantity available
The deal is on!
Tipped at 12:33 AM with 0 bought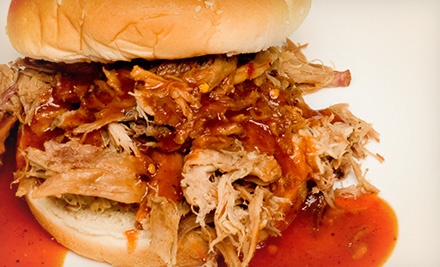 The Fine Print
Expires Sep 14, 2013
Limit 1 per person. Limit 1 per table. Dine-in and carryout only. Valid towards alcohol.
Highlights
Smoked beef brisket, pulled pork, shredded and grilled chicken, and pork ribs doused in award-winning Tennessee-style barbecue sauce
Barbecue sauce can make a good meal even better, as can good company and a waiter who rubs your throat as you chew. Chow down with this Groupon.
Choose Between Two Options
$10 for $20 worth of barbecue, sides, and drinks
$30 for three Groupons, each valid for $20 worth of barbecue, sides, and drinks (a $60 value)
The menu features smoked, barbecued meats by the pound ($12.99 for pulled pork and chicken, $14.99 for beef brisket), and a la carte sandwiches loaded with barbecue pulled pork, chicken, or beef brisket ($5.99). Barbecue platters such as grilled chicken ($8.99) come with two sides, including cole slaw, mac and cheese, and collard greens.
The Company
Honey Bear's BBQ
5012 E Van Buren St
Phoenix, Arizona, 85008
2824 North Central Avenue
Phoenix, Arizona, 85004