1000 bought
Limited quantity available
The deal is on!
Tipped at 7:26 AM with 0 bought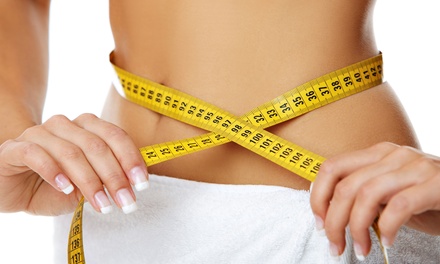 The Fine Print
Expires Jan 14, 2015
Limit 2 per person, may buy 2 additional as gifts. Limit 1 per visit. Appointment required. 24hr cancellation notice required. Must be 18 or older. In-office only. Must have working liver. Not valid for pregnant women.
Highlights
Noninvasive treatments shrink fat cells in the stomach, obliques, upper thighs, and lower back
Today, people can lose weight without moving a muscle thanks to slimming technology and the development of condos on the Moon. Join the trend with this Groupon.
The Deal
$125 for four Waist-Buster BioSlim Lipo treatments (a $500 value)
Scheduled during the same appointment, the four BioSlim lipo treatments use beams of red light to spur lipolysis. This causes the fat cells to release their fatty acids and glycerol into the body and shrink, resulting in lost inches. Bodies then flush out the expelled fat-cell contents via the lymphatic system or burn them for energy. The four treatments target the stomach, obliques, upper thighs, and lower back. See the FAQs for more info.
The Company
American Photon Lipo Centers