5000 bought
Limited quantity available
The deal is on!
Tipped at 1:39 AM with 0 bought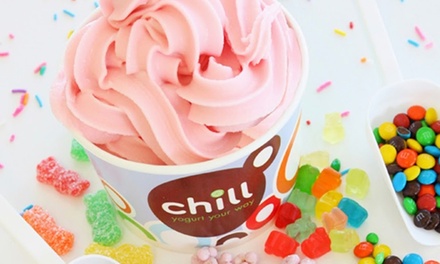 The Fine Print
Expires Jul 23, 2014
Limit 1 per person. Limit 1 per table. Limit 1 per visit/group. Not valid with other promotions.
Highlights
Fill a cup with one of the flavors currently featured, then customize it with more than 75 fruit, candy, cereal, and sauce options
Frozen yogurt is used to delight taste buds, unlike boiling yogurt, which is used to stop invaders from scaling gingerbread castles. Harness the benefits of this powerful treat with this Groupon.
The Deal
$10 for four Groupons, each good for $5 worth of frozen yogurt ($20 total value)
See the full menu
The Company
Chill Yogurt Cafe
6860 US Hwy. 90
Daphne, Alabama, 36526
6167 Airport Blvd.
Mobile, Alabama, 36608