0 bought
Limited quantity available
The deal is on!
Tipped at 1:19 AM with 0 bought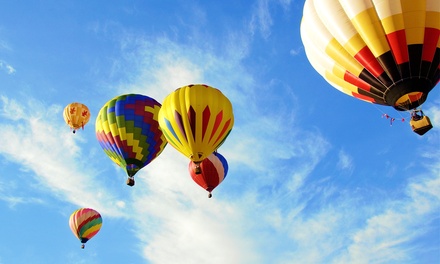 The Fine Print
Must sign waiver. Subject to rescheduling due to weather. Limit 1 per person, may buy 2 additional as gifts. Limit 1 per visit. Valid only for option purchased. Groupon voucher not valid at redemption locations; must present certified Soaring Adventures flight ticket at time of flight. Flight may be redeemed by any Soaring Adventures partner. Flight ticket valid until November 1, 2015. First and last name and shipping address must be collected to allow shipping of flight ticket upon checkout. Merchant will provide redemption location upon scheduling.
Highlights
Leisurely float through the skies in the basket of a colorful hot air balloon
Gravity is more likely to bend the rules for you if you're in a hot air balloon, or you're friends with gravity's brother, Troy. Grease the gears with this Groupon.
Choose Between Two Options
$199 for a flight ticket for a hot air balloon ride for one person ($229.95 value)
$379 for a flight ticket for a hot air balloon ride for two people ($439.90 value)
After you purchase this Groupon, Soaring Adventures will immediately mail your Flight Ticket to you. You will receive a package with the following contents: your Flight Ticket, a poster of the balloon, a list of the 200 locations nationwide where you can schedule your ride through November 1, 2015, and a $30 off coupon for you to give to a friend or use yourself on your next Balloon, Glider or Skydiving ride.
The Company
Soaring Adventures of America, Inc.
Soaring Adventures of America, Inc.