1000 bought
Limited quantity available
The deal is on!
Tipped at 12:21 AM with 0 bought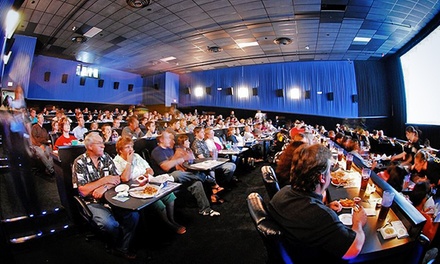 The Fine Print
Expires Sep 28, 2014
May buy multiple for one-ticket options. Limit 1 per person per visit. Not valid for kiosk purchases. Not valid toward buyouts. Never valid toward alcohol, beverage, or food. Must redeem and use movie tickets by expiration date. Must use promotional value in 1 visit. Extra fee for 3D movies and online purchases. $1.50 convenience fee/seat applies for online reservations. Discount is off full adult ticket price. Not valid with other promotions. Valid only for listed locations.
Highlights
A wide selection of new releases and cult classics is projected on towering screens as viewers watch from leather recliners and tables
Movies provide entertainment for eyes and ears easily bored by the mundane sights and sounds of everyday life with constant high-speed chases and endlessly chatty talking animals. See something exciting with this Groupon.
Choose Between Two Options
$5 for one movie ticket (up to $10 value)
$10 for two Groupons, each good for one movie ticket (up to $20 total value)
$20 for four Groupons, each good for one movie ticket (up to $80 total value)
Catch a new release, such as Into the Storm (opening Friday, August 8), The Expendables 3 (opening Friday, August 15), or Dolphin Tale 2 (opening Friday, September 12), or take in an alternate program. Click here to find a current list of showtimes. This Groupon can be redeemed at the box office or online. For added convenience, customers can choose their seats' locations and types—table seat, counter seat, or VIP seat—ahead of time, both online and at the box office. A $1.50 per seat service fee applies for online reservations.
Frequently Asked Questions
How much is the extra fee for 3D movies?
Depending on location, there is an extra fee for 3D movies ranging from $2 to $3. Please visit the website for details.
Can I go to any Studio Movie Grill location for this deal?
Your Groupon is valid only at the listed Studio Movie Grill location you purchased.
Can the Groupon be used on the same day of purchase?
Absolutely, this can be used immediately.
Can this be used towards children's tickets?
Yes, you can use these tickets for children.
Any restrictions on the movies this can be used towards?
This Groupon is valid for all movies, but please keep in mind there's an extra fee for 3D movies ($2–$3 depending on location) and an extra fee for online reservations ($1.50/seat).
If I buy more than one Groupon, can they be used at the same time with another person?
Yes, you can use multiple vouchers as long as each person has their own Groupon.
The Company
Studio Movie Grill
8580 Highway 6
Houston, Texas, 77095
822 Town and Country Boulevard
Houston, Texas, 77024