1000 bought
Limited quantity available
The deal is on!
Tipped at 12:17 AM with 0 bought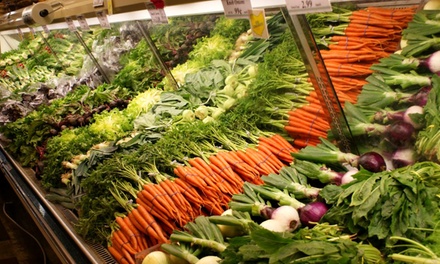 The Fine Print
Expires Aug 21, 2014
Limit 1 per person. Limit 1 per visit. Not valid for the purchase of alcohol. Cannot be combined with any other offers or promotions.
Highlights
Conventional and organic produce, meats, gourmet cheeses, and flowers; custom-cut butcher shop, bakery, and deli in 21,000 sq. ft. space
People buy groceries and bring them home so that they will always have food in their fridge and so that they won't have to kiss grapefruits in public in the middle of the produce aisle. Take care of private matters inside the home with this Groupon.
The Deal
$14 for $20 worth of groceries, bakery items, and butcher meats
The Company
Miles Farmers Market
28560 Miles Rd.
Solon, Ohio, 44139