130 bought
Limited quantity available
The deal is on!
Tipped at 12:00 AM with 0 bought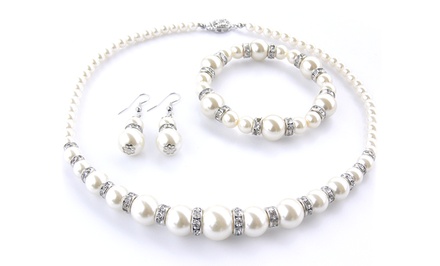 Highlights
Matching necklace, bracelet, and earrings are all made with white freshwater pearls and rondells ringed with Swarovski Elements Crystals
Guccinara Freshwater Pearl Jewelry Set
Matching necklace, bracelet, and earrings
Made with multi-size freshwater pearls
Interspersed with Swarovski Elements crystal on rondells
Rhodium-plated alloy metal
Rose gold finish
Necklace length: 16.5-in.
Bracelet length: 7-in.
---
To complete your Goods order, simply purchase this Groupon and provide your name and shipping address.

Please check the Fine Print for this deal's estimated delivery timeframe. We work with thousands of brands to deliver the amazing selection you see on Groupon Goods, and this shipping window ensures we have enough time to coordinate with our suppliers to get you the products you love.

For questions pertaining to this deal, click the Ask a Question button below. For post-purchase inquiries, please contact Groupon customer support.

View the Groupon Goods FAQ to learn more.
The Company
Guccinara Pearl Necklace, Bracelet, and Earrings Set
Guccinara Pearl Necklace, Bracelet, and Earrings Set